-->
Nowadays patients are offered the benefit of maintaining a good vision quality without depending on glasses, without taking risks and, in most cases, without surgery and even at a reasonable cost.
Successful research has been carried out for over the past decades on hyperopia treatment and some diseases of the accommodation and refraction of the eye.
As a result, significant progress has been made in the knowledge and treatment of diseases of the visual system (related to genetic influence as in the case of hyperopia or caused by aging as presbyopia) allowing to reduce or to stop the advancement of the loss of vision in a great number of people.
There is already a variety of existing methods, some drug based, others optical and surgical. All of them are used efficiently meeting the requirements of the different stages of the eye disorder, both prematurely working with prevention and later with recovery of the vision.
The preventive treatment is drug based. It has been used in research for over thirty years and at present is administered combining drugs produced both locally and abroad.
(Traitement médical des vices de réfraction, in J. Sédan e altri, Thérapeutique médicale oculaire, Paris 1957, pp. 1228-1237).
These medications are produced by medical national and multinational laboratories. They are available in pharmacies throughout the country. They are produced in compliance with

international

quality control and manufacture standards and they are backed by serious experimental and human based research.
It is a very simple method and it is the most appropriate one for those willing to stop wearing glasses.
The composition and dosage varies according to each particular case and is administered following medical evaluation.
HUGONNIER
, R. –
CLAYETTE-HUGONNIER
, S. — STRABISMES, HETEROPHORIES, PARALISIS OCULOMOTRICES (les dese- quilibres oculo-moteurs en clinique). Paris, Masson, 1959

(554- 556) TRAITEMENT MÉDICAL GÉNÉRAL ET LOCAL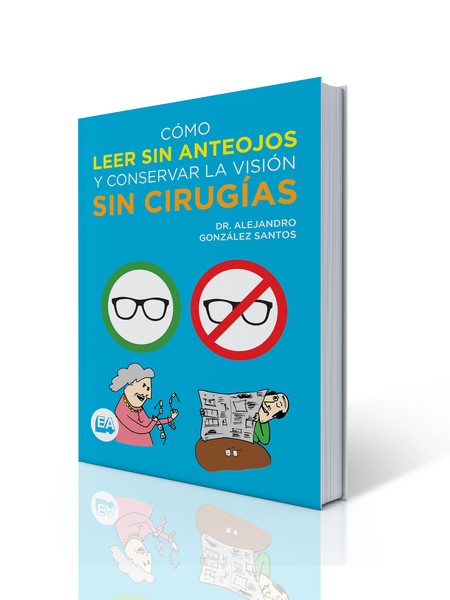 Variaciones de la Agudeza Visual luego de
Administrar Pilocarpina y Tetrahidrozolina a
Pacientes Hipermétropes
Dr. Alejandro González Santos
ARCH. OFTAL. B. AIRES; vol 81 nº 2; pág 51-55; 2010
Purpose: To determine up to which extent visual acuity (VA) can be increased in hyperopic patients after extended administration of an association of cholinergic and alfa adrenergic drug.
Results: Visual acuity with no optical correction increased between 1 and 9 lines in the decimal scale at a distance of 6 meters compared to previous levels of VA of the patients before starting the treatment.
http://sao.org.ar/LinkClick.aspx?fileticket=6Ld8dL-HbfA%3D&tabid=492&language=es-AR
Moreover, the benefits of this treatment are to avoid both the dependence on glasses and the rebound effect of glasses, to improve close and far vision and to recover or avoid blurred vision caused by some medicaments such as muscle relaxants and psychoactive drugs (sedatives and tranquilizers).
Thus, this treatment provides the great majority of its users the satisfaction of maintaining their vision in spite of years going by. And a great number of people who could only see properly wearing glasses or contact lenses can improve their vision significantly.
As regards present treatments which are optical or surgical, the administration of this medicament is helpful since it avoids progressive changes in the adjustment of glasses and prevents relapse of hyperopia in the post operation period.
As a preventive method, its efficacy varies according to the patient's age when starting the treatment. Its strongest effect is between thirty five and fifty five years old. It starts to slowly decline between fifty five and sixty five years old.
It can be administered among children and youngsters as well.
The duration of the treatment is optional and it depends on each individual; it can even be continued for a lifetime.
Stopping the treatment does not have unwanted effects and it is observed that the vision returns to the level at the starting point, according to the patient's age and previous refraction.
In very few cases has the treatment been cancelled due to adverse effects such as allergic reactions in the

conjunctiva or

cephalea in hyperreactive patients.
Occasionally, a dose increase was decided in some hyporreactive patients, which enabled them to continue under treatment.
In pharmacies the medicament is just as expensive as any other first quality eye drop (such as artificial tears or antibiotics).
COMBINED TREATMENT OF LASER EXCIMER FOR PRESBYOPIC FARSIGHTEDNESS
We successfully combine the treatment of laser excímer for presbyopic farsightedness with the drops to see better.
The excimer laser is a surgical procedure, which because of its simplicity and low risk, has become the most frequentely chosen surgical treatment to replace glasses and contact lenses by people who suffer myopia, farsightedness and astigmatism.
Improvement of visual acuity is achieved very rapidly. The result is stable in those who suffer from myopia and astigmatism and less stable in those who suffer from farsightedness.
It has been verified that, only a few years after having been operated for farsightedness, a great number of patients once again need optical help to read, work with the computer, read text messages or movies subtitles, watch TV or drive their car.
Moreover, after ten years of the first surgery, many of them need a second operation due to their low vision.
New and original treatment
We have been working with this combined treatment for over ten years.
The combined treatment of drops to see better and excímer laser may improve the prognosis of the laser excímer surgery for farsightedness, avoiding the relapse of farsightedness and presbyopia in the postoperative period for decades.
How does it work?
This effective treatment contains an association of two active principles, colinergic and adrenergic, which reestablishes and preserves the tone of accommodation for decades, as long as it is used regularly. It preserves visual acuity and the quality of close vision without needing glasses again.
When is it prescribed?
In young patients it prevents using non physiological treatments of mono-vision for distance vision with one eye and near vision with the other one and other more invasive methods.
This combined treatment is prescribed for most of the people who have undergone laser surgery for presbyopia or farsightedness and for low-reactive presbyopes whose visual acuity could not be improved adequately with other treatments.
Research:
http://www.sao.org.ar/N%C3%BAmeroActual/81_02_05/tabid/499/language/es-AR/Default.aspx
Contact
:
Dr. Alejandro González Santos. M. D. O

phthalmologist
Dr. Eduardo González Santos.

M. D. O

phthalmologist

.
Dra. María Isabel Crestelo.

M. D. O

phthalmologist

.
http://
hyperopiaandpresbyopiatreatments
.blogspot.com
CONTACTS
-
LIBERTAD 1173 PISO 2 ´´ A´´ C.A.B.A. TEL. 48126239
http://www.consultoriosprofesionales.com/ficha.php?id=472
Tel.5491160236407 Local(011)1560236407
BUENOS AIRES.
REPÚBLICA ARGENTINA
Dr. Alejandro González Santos. Médico especialista en oftalmología.
Titular del CENTRO PARA LA VISION. Ex-jefe de sección del HOSPITAL OFTALMOLOGICO Dr. P. LAGLEYZE
Matrícula Nacional 47737 argonzalezsantos@gmail.com